Chief Great Ovedje Ogboru, a veteran Politician, Philanthropist, Businessman and an AGPA Chieftain currently on Delta State gubernatorial Race highlighted his Jubilee Agenda in a Townhall meeting hosted by SRTV on Friday the 6th of January 2023.
Delta state governorship candidate of the All Progressive Grand Alliance political party Chief Great Ogboru categorically stated that Delta State and Nigeria in general need to be handled by people with knowledge and experience in life, politics and business.
To Chief Great, Delta state is in a sensitive state, a state where only the capable and experienced can save the state and restore it to its glory days.
"I Was Only 32 Years Old When my properties Worth Over 30 Million Dollars was Taken By the Federal Government of Nigeria, I Didn't Have a Foreign Account and I Still Don't, I Left Nigeria with only $600, But I Was Able To Acquire 4 Fishing Vessels, Hiring About 320 Persons and Also Managed to Acquire 2 Masters Degrees"
Chief Great believes that there is no better way to ensure growth and development in the grass-root than through actively involving youths and local authorities, accordingly, he plans on setting up a local government board where he will give each local government a sum of 200m Naira monthly for the development of their local communities.
Chief Great highlighted his plan to focus on wealth creation around the state, he assured the callers and viewers of his increased interest in human capital development and his plans to work more with the Local Government in improving their local community.
Chief Great further stated that he will focus on changing the mindset of the Delta people towards development and an increased value system and also putting in more physical infrastructure.
On peace and security, Chief Great assured voters that when elected into office, he will collaborate with the security forces in eradicating crime, noting that crime mostly comes from unemployment and lack of value system but with his Jubilee Agenda, he will focus on training the minds of the ordinary Deltans to increase their value system.
Prof F. Arunaye, a guest on the show asked chief Great how he planned on dealing with corrupt politicians who have syphoned public funds. Chief Great Ogboru reminded the viewers of Nelson Mandelas approach, assuring Deltans that when voted, he will not focus on vendetta but rather on the utmost development of the state as outlined in the JUBILEE AGENDA.
A call came in from France asking for Chief GreatOgboru's plans were for the Delta state marine sector. Chief Great replied by stating that he has outline plans for the marine areas in his manifesto. He also highlight his plans to provide trainings for people living in marine areas in order to educate them on how to navigate themselves with state of the art technology while on water. To him, once he can provide employment and means of livelihood for the ordinary Deltans, development is sure to follow.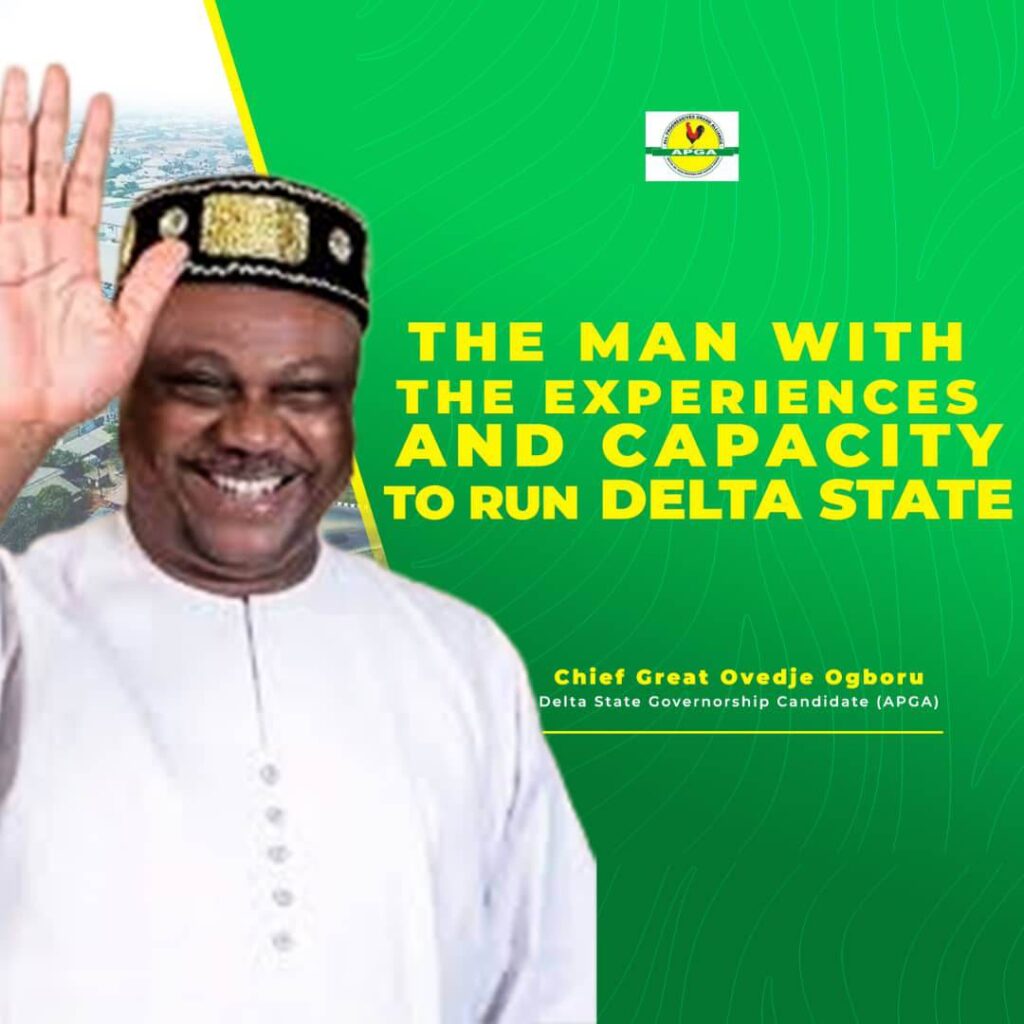 A caller from Libya asked to know Chief Great plan for Agriculture in Delta state, Chief Great stated that he is very interested in integrated farm implementation for local farmers, a system where he plans to empower local farmers to go more into agriculture and he will provide the needed technology and technical know-how to encourage them into agriculture, he also highlighted that there will be massive investment when elected in agro-allied industries to help improve agriculture in the state.
In his closing message to Deltans, Chief Great Ogboru urged Nigerians to get their PVC and vote the right candidate, stressing that it is only through the electoral process that the right person can emerge to handle the affairs of the state.