Nigeria Week in London is an admixture of Entertainment and Business events designed to showcase Nigeria's rich cultural heritage. It is proposed as an annual week-long event which will take place in the United Kingdom. The event will feature an array of Nigerian food, films, art and culture, fashion, and music. There will also be an economic summit and an exhibition of numerous Nigerian agricultural produce.
On the 19th of May, is the Music Extravaganza (Afro-Beats Day), featuring Oritse-Femi, Terry G, Konga, Ice- Prince and loads of other UK and Nigerian Artiste.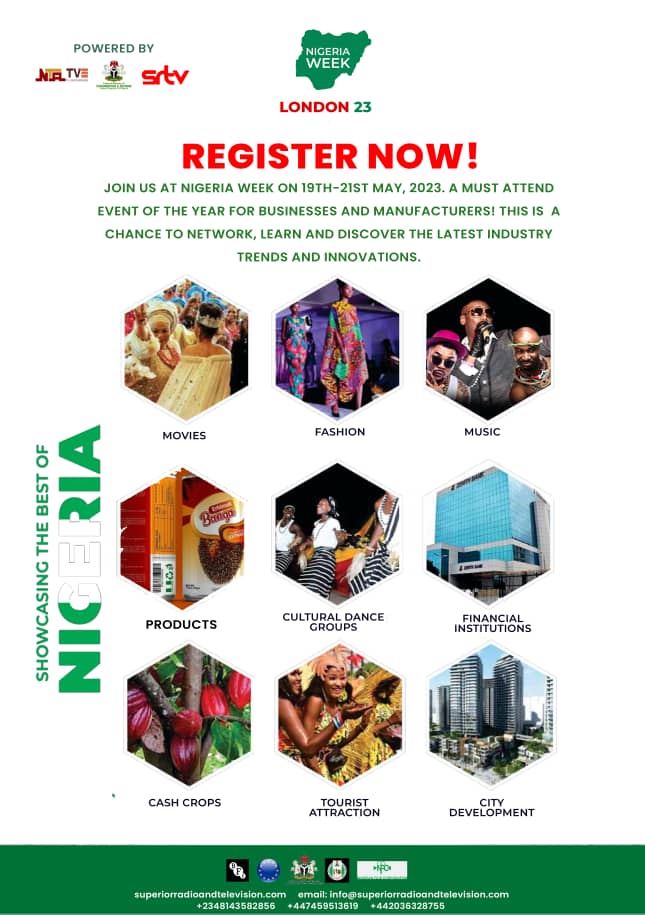 The Nigeria Week in London project represents an unexploited property which provides a unique opportunity for Nigerians, Nigerian businesses and Creative professionals to enjoy unrivalled visibility and international public relation tools, with a cost to benefit ratio that could be really staggering as to its reach and impact.
They are currently inviting businesses, artistes, Nigerians and friends of Nigeria to share their passion and be leading partners in the vision.
Should you require further information, please, do not hesitate to contact them on +234 814 3582 856, +44 (0) 7 459 513 619, +44 20 3632 87 55 or by email: info@superiorradioandtelevision.com. We look forward to hearing from you and we hope we can collaborate on this initiative.