PRESS RELEASE: NIGERIA WEEK LONDON JULY 17TH to 23RD 2023
PRESS RELEASE NIGERIA WEEK, LONDON 2023
SRTV London in partnership with the Federal Ministry of Information and Culture, the Nigerian Film Corporation present the maiden edition of Nigeria Week in London from 17th to 23rd July 2023, at the Lighthouse Theatre, 262-274 Camberwell Road, London SE5 0AY
Nigeria Week, London 2023 is a mixture of Entertainment and Business events designed to showcase Nigeria's rich cultural heritage. It is proposed to be an annual week-long event featuring an array of Nigerian foods, films, arts and culture, fashion, and music. There will also be a comprehensive Film Summit and an exhibition of various Nigerian products and services.
The far-reaching Film Summit which engages the Nigerian Film Corporation (NFC), National Film & Video Censors Board (NFVCB), the Nigeria Export Promotion Council, Various Nigeria Guilds and Associations, the British Film Institute (BFI), British Council and Art Council England and others, is structured to find a new path of collaboration between the Nigeria and the British Film industries.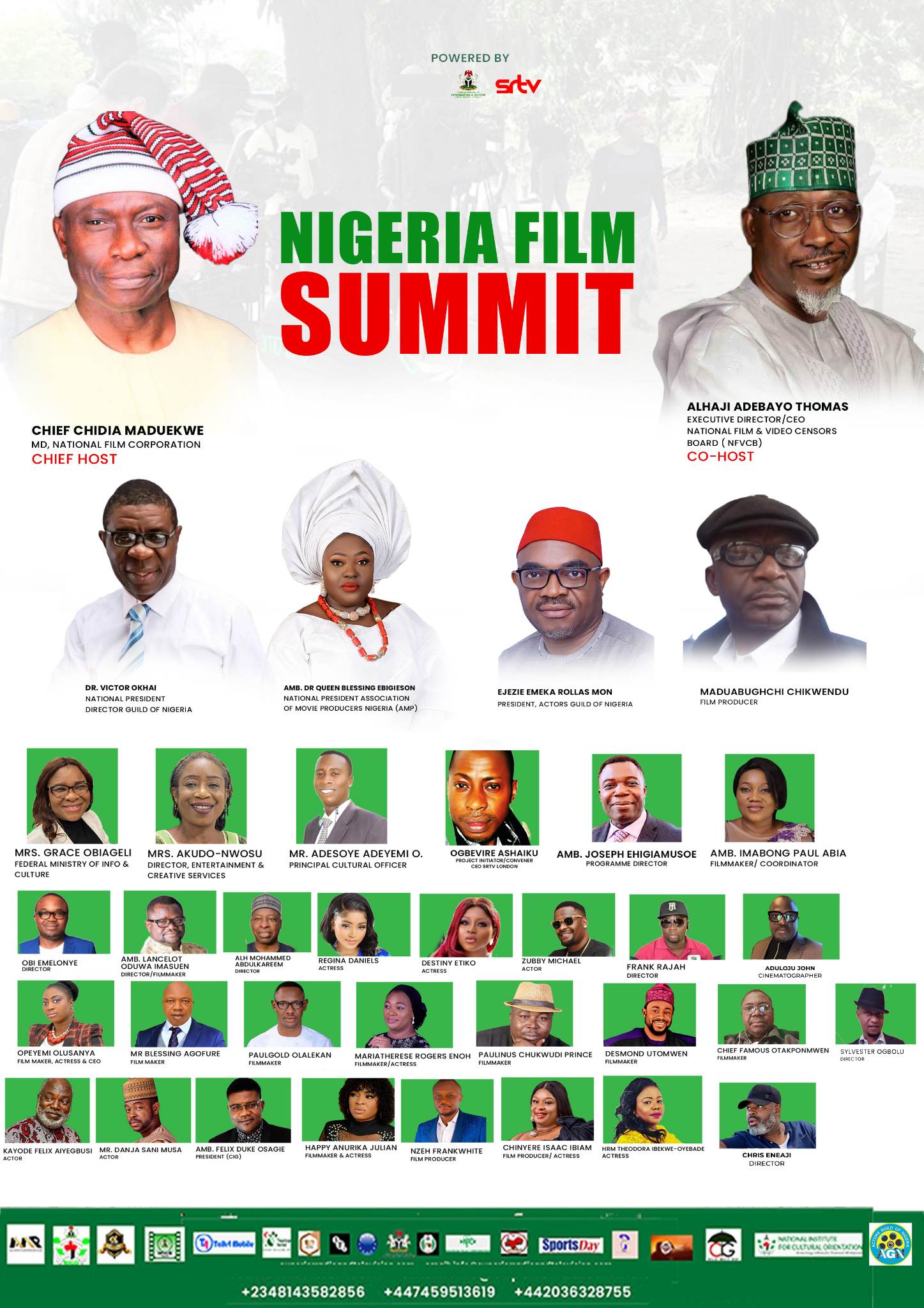 To be engendered on the Film Summit long program would be film co-production discussion, film funding and knowledge exchange, networking, promotion, distribution and marketing. Nigeria manufacturers and entrepreneur will also have the opportunity not only to showcase their products and services but a chance to situate their businesses in the international mainstream markets.
Our week-long event includes:
A 4-day food and film exhibition specifically designed to exhibit the best of Nigeria Cuisine and Nollywood historical movies like Usman Danfodio, Shaihu Umar and an array of modern contemporary stories while we craft a new path for Nollywood with the proposed Nigeria Film Development Fund: a package structured to boost the quantities and qualities of films produced in Nigeria
A week of Nigeria Music Extravaganza featuring A-List Afrobeats artistes amongst whom are Ice-Prince, Oritse-Femi, Terry G, Konga, Bigiano, Orits-Williki and a host of others on 21st July 2023.
Fashion Shows to wow the audience with the best of Nigerian designs, home and the diaspora.
Exhibition of Nigeria Agricultural Produce.
Nigeria craft and cultural dance performances from the National Troupe of Nigeria, Gwape International Niger State Cultural Troupe and others.
Gala night and Recognition Awards, celebrating and honouring Nigerians from around the world who have excelled in entertainment, health, governance, education, arts and leadership on 23rd July 2023.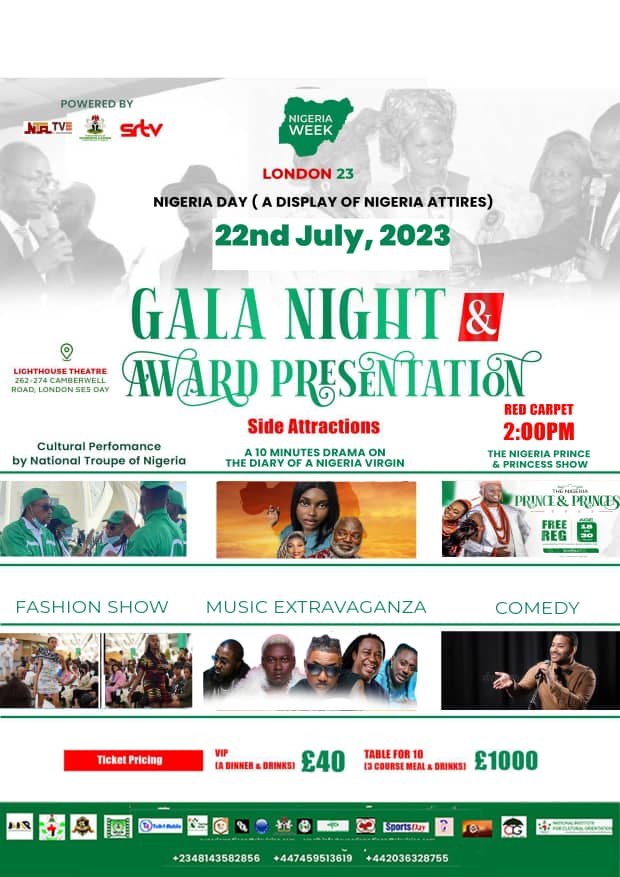 Seminars and workshops on re-branding the image of Nigeria
Our partners include British Film Institute (BFI), Greater London Authority (GLA), Mayor of London's Office, BECTU, Southwark Council, Arts Council England, The Commonwealth Organisation, Nigeria High Commission UK, Niger State Government, Edo State Government, British Council, National Film and video Censor Board, Actors Guild of Nigeria (AGN), Directors Guild of Nigeria (DGN), Association of Movie Producers of Nigeria (AMP), Cinematography Society of Nigeria (CSN), National Troupe of Nigeria, Nigeria Council of Arts and Culture, Nigeria Diaspora Commission (NIDCOM), and many more.
The week-long event will be streamed live on SRTV and our partners' stations