On Tuesday, 27th of December 2022, The Town Hall meeting hosted by Daddy Kris was streamed live on Youtube and many other social media outlets with Hon. Ben Igbakpa Rollands as the first guest coming in on the show.
Hon Ben Igbakpa, the member representing the people of Ethiope Constituency in the Federal House of Representatives in Nigeria, highlighted that democracy in Nigeria is a Representative Democracy where people vote leaders to represent them, stand in for them to do the business of law making, decision making and protection of their common interest.
Hon Ben Igbakpa is an astute politician who has moved about 16 bills in the House of Reps in the last three years to promote the interest of his constituency.
During the Town Hall Meeting, He was asked by the show host to highlight some of his human capital projects and he reiterated by stating the ongoing scholarship program he has in his constituency, He goes further to say that he has provided business capital funding to small scale businesses and provided charity to those in need.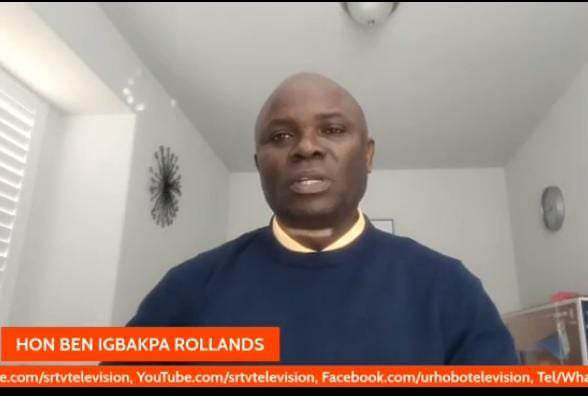 Hon. Ben is truly a man with the people's interest at heart as he was calm and kept answering the questions thrown at him, he stated his plans to create a legislative agenda to help his people work together as a team and achieve their common goals.
The Town Hall Meeting broadcast was later joined in by Bishop Amadu Sam Ame at the 20th Minute where he asked Hon. Ben what his plans were for the Urhobo People. Hon Ben replied that it was to increase Urhobo people continuous representation at the Federal Level and continue to promote their interest.
The Meeting was later joined in by Chief Gladys and Unuevworo Lucky Ubiribo of Oghareki in Oghara Kingdom and she praised Hon Ben for his efforts, pointing out the honesty and dedication of Hon Ben in ensuring the interest of the people is well represented at the House of Reps.
Hon Ben Igbakpa a former commissioner of transport, Delta State and sitting House of Reps Member postulated the importance of legislative representation, he stated that is focal point when elected into office for the second tenure is to concentrate on the development of the tertiary institution within his constituency as a man true to his words, he challenged the audience to go verify the capital projects he has executed within his constituency and their wards ranging from the renovated water board, installed transformers at different locations, improvement of type 2 primary health care centre
To end the Town Hall Meeting for the day, Hon. Ben thanked his supporters for their continuous support and pledged to stay committed to the actualization of their common goal, he stated that he gets maximum satisfaction when he sees his people happy.
The Town Hall Meeting Host, Daddy Kris thanked the audience for their questions, he also acknowledged his guests for making out time to be live on the show and appreciated the well dedicated efforts of Hon. Ben Igbakpa.
Another meeting is scheduled to hold today, 28th December 2022 by 6:00pm with Olorogun Immanuel Edijala live on SRTV Televsion.