The Town Hall meeting was held on the 28th of December at about 6:00pm with the event host, Daddy Kris introducing Olorogun Immanuel Edijala as special guest to the Town Hall Meeting.
Olorogun Immanuel is the Delta State Governorship Aspirant under the People's Redemption Party (PRP), his first political run was in 2003, where he aspired to run for Governorship and then he tried again in 2007 before taking a political leave to study the Nation's properly and how politics is being ran in Nigeria and now under People's Redemption Party (PRP) he his contesting for Delta State Governor.
When asked his reason for returning to politics and under PRP and not other popular political parties as currently found around, he stated that PRP is one of the mainstream parties in Nigeria, the first amongst other political parties in Nigeria, Olorgun believes in a "welfarist System". To him, PRP stands for his ideology of welfarism, a system that believes and caters for the welfare of ordinary people/citizens.
Olorogun Immanuel is a successful business man who has conducted businesses within and outside the shores of Nigeria,To him, the interest of the Deltans is what he places above all and one highlighted that one effective ways for Delta state to develop and increase her internal revenue is to hand over the affairs of the state to a private sector; men who can help grow the economy, attract investors and fund the budget.
When asked about the Justice system, security of Delta state and Nigeria at large, he highlighted that he believes in social order and orderliness aligned with the judicial system. He highlighted that he will improve the security force by increased education of the police and continuous awareness on citizen's right to the police.
Olorogun stated the importance of data as to him, 'Data is Intelligence' he believes that growth and development of a Nation can only be when there is adequate data to measure where they were and where they are going, what needs to be done and what needs to stop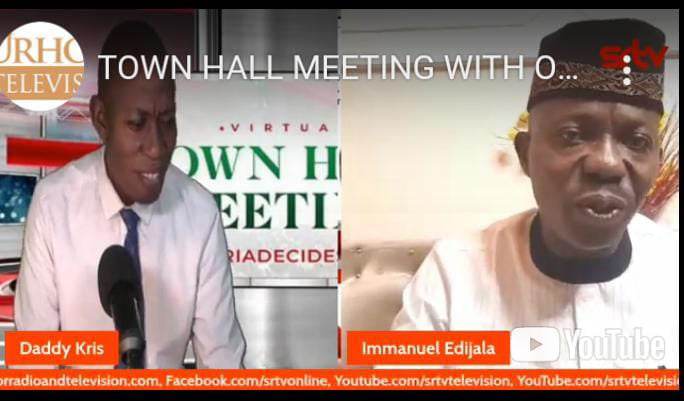 On education, Olorogun said that he will drastically improve the quality of education in the state. He will shut down illegal examination centres and focus on vocational studies to help encourage entrepreneurship and self sufficiency.
Kelvin, impressed with Ologun Immanuel depth of knowledge and presentation cried out that Olorogun is a University to Study
Chief Glady was impressed with OIorogun and his plans for delta and assured him of her support. Olorogun went further to state that he will focus on price stability as he stated his plans to do that with his soon to be released potato bread where he will use to try to stabilise the price of bread across the state.
A caller asked Olorogun Immanuel if he will work with the next governor should he loses out, Olorogun categorically told him Politics is not a do or die affairs, his knowledge and expertise can still be used and deployed for the growth and development of Delta State. To him, his interest at heart is to see Delta State become better than it was. The town hall meeting lasted for about
3-Hours with all matters regarding the affairs of the nation being discussed.
Another Town Hall Meeting is scheduled to hold today, 29th December by 7pm with Prof. Chris Mustapha Nwaokobia.